Welcome in Eperlecques
Gîte de la Liette
Mr & Mme Bollart
Tel: + 33 (0) 3 21 93 05 27
e-mail: gitedelaliette@free.fr


Our gite is in a farm, each one sleeps 11 people (no animals, sorry).
Eperlecques is situated in the Audomarois, the Saint-Omer region. This is a verdant countryside.

Easy accessible and ideally situated, seeing that Eperlecques is at about:
- 30 min from the Channel tunnel and Calais
- 10 min from Saint Omer
- 30 min from Dunkerque
- 1h from Lille
- 2h from Bruxelles, 2h30 from Paris, 2h30 from London, 4h from Amsterdam.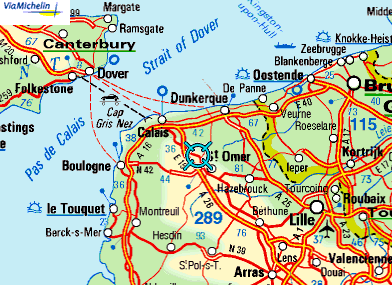 Description:
To the ground floor: - Equipped kitchen, washing machine,...
- Living room
- Bedroom with 1 double bed and 1 single bed
- Bathroom with shower
- Separate toilet
- Washing machine
- Barbecue
To the floor: - Bedroom n°1: 1 double bed and 1 single bed.
- Bedroom n°2: 2 single beds
- Bedroom n°3: 3 single beds
- Bathroom with shower
- Separate toilet


Activities:
It offers a wide variety of activities, a rich history and protected an natural heritage.
Eperlecques: The Eperlecques Bunker (the launching base for the V2 missiles), The Eperlecques forest.
Houlle: The Genever Distillery.
Saint Omer: Arts and History Town, Notre Dame Cathedral and grounds.
Arques: The Fontinettes Boat, Arc International (world leader in fine tableware).
Clairmarais: The Romelaere Nature Park and Marshes.
Dennebroeucq: Dennlys Park
Fishing, walking, open air markets,...

Prices for 2004:
For 10 persons:
- 420 € July, August (by week)
- 400 € June, September (by week).
- 400 € Off Season (by week).
- 250 € Week End (only off season).



+ 5,50 € by people for cloths.

The whole week, from Saturday at 4 pm till the following Saturday at 10 am.
The week end from Friday 4 pm till Sunday at 6 pm.

The reservation becomes effective only after a payment of 25% of the total.
The outstanding balance is to be paid at your arrival.
A deposit will be required on your arrival.

Gîte de la Liette
Mr & Mme Bollart
Tel: + 33 (0) 3 21 93 05 27